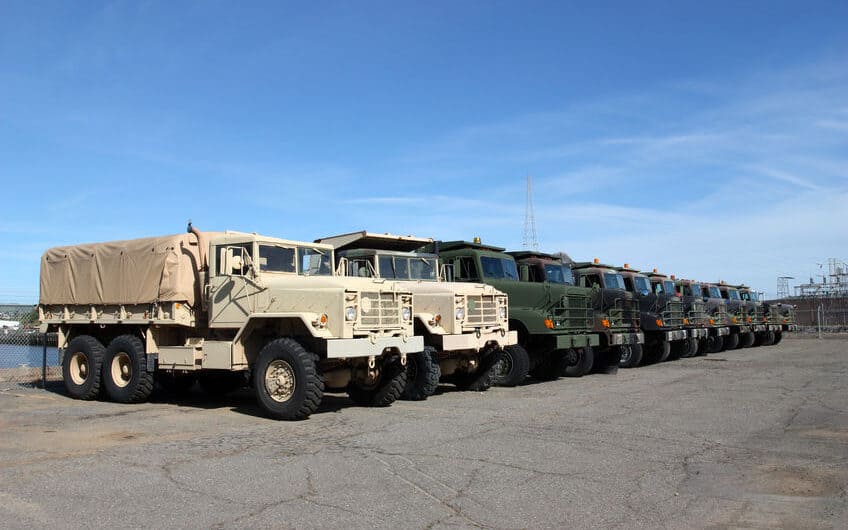 Chances are that if you came to this article in answer to the above question, you find yourself in possession of some sort of military vehicle and want to know the legality surrounding it. Or perhaps you're just curious about these vehicles and what the state of California has to say about them. Either way, are military vehicles street legal in California?
Most military vehicles are street legal in California. Some of the exceptions are Military Humvees and tactical vehicles, which must be made non-lethal as part of the process if you choose to work on making them street legal. Local DMV's can offer more clarification for specific vehicles.
California has some rather specific rules when it comes to owning and driving military vehicles. In this article, we will go through some definitions to clarify what military vehicles are and what it means when they are street legal, what the requirements are for street legal vehicles in California, as well as what the state has to say about military vehicles on the roads.
What Qualifies As A Military Vehicle?
There are a large variety of different military vehicles, but basically, they include all land combat and military transport vehicles. Ones that have been designed for and significantly used by military forces specifically.
Some of the most common land combat and military transportation vehicles are:
Armored fighting vehicles – can be wheeled or tracked
Reconnaissance vehicles
Self-Propelled Anti-Aircraft Guns (SPAAGs) and Self-Propelled Air Defense Systems (SPADS) – similar appearance to tanks
Technical/ Non-Standard Tactical Vehicle (NSTV) – often an open-backed civilian pickup truck mounted with some sort of machine gun or cannon.
Joint Light Tactical Vehicle (JLTV) – more survivable vehicles with greater carrying capacity than Humvees
Of course, there are many others, but these vehicles are the ones that will most easily fall into the categories of what might be street legal. California has regulations concerning the ownership of these vehicles, and the ones you will find the most information on and most commonly come across include Humvees, other trucks, and tanks.
What Does Street Legal Mean?
The basic definition of what makes a vehicle street legal is that it means the vehicle meets all legal requirements to be used on public and/or ordinary roads. The vehicle must be equipped and licensed for use on public roads.
When a vehicle is street legal it also means that it must have a specific layout and design for its lighting, signal lights, and safety equipment. This would cover things such as making sure the headlights, taillights, and blinkers work on the vehicle and making sure it has the appropriate seat belt, windshield wipers, and braking systems.
Other common requirements in the United States are that the vehicle has good structure (like having a hood, all required doors, etc.) and appropriate safety equipment (besides just seat belts, this includes bumpers and headlamps).
Street Legal Vehicle Requirements in California
Most requirements for street legal vehicles are consistent in all the states. Things like the need for two side-view mirrors, a rearview mirror, and a license plate in at least the rear of the vehicle.
One thing worth noting about California regulations is that their emission control is more strict than other states. Every so often vehicles must be tested to see how good their fuel emission is doing. These tests exist to try and help keep the city smog under control since California has some heavily populated areas, and to reduce the number of greenhouse gases put into the atmosphere by all forms of transportation.
The requirements for emissions and emission testing vary depending on if the vehicle uses light-duty gasoline, light-duty diesel, or heavy-duty diesel. You will probably have to get emission testing biennially (available to cover 2 years) to receive registration renewal. For heavy-duty diesel, you will need a Periodic Smoke Inspection Program (PSIP)-which is an annual smoke and tamper self-inspection. There are few exemptions to these rules but you can look them up or ask people when you go in to get your vehicle tested. 
California's Laws About The Street Legality of Military Vehicles
Of course, the US Army and other military in California often have to transport military vehicles such as tanks from one location to another, and convoys will drive at full speeds down California roads. But when it comes to military vehicles owned by civilians, the rules get more complicated.
These vehicles are typically sold at government auctions and surplus sales. For tanks, it is perfectly legal to own one as long as it has been demilled (so that it's no longer weaponized) and you keep it on privately owned land. You are not allowed to drive them on roads unless you check with your local DMV first and make sure it has been fitted with padded tracks so it won't do any damage to the roads.
In October of 2017, the California DMV put out the following vehicle industry news about Government Surplus Vehicles: There are 3 different categories:
Government Surplus Vehicles (GSV's): They can be from any federal agency except the military. These are the ones you can most likely drive on highways and will be a lot easier to guarantee they are street legal out of the 3 categories. Most of them meet street legality standards and have 3 things:

17 digit vehicle identification number (VIN)
Emission label
Federal Motor Vehicle Safety Standard (FMVSS) label

Military Vehicles (like Humvees): Usually sold through auctions but can't be registered for on-highway use. Can however be registered for off-highway use if written on the US Government Certification to Obtain Title to a Vehicle (SP 97-1) form. They won't have any of the labels that GSV's do but will have a serial number. 
Tactical Vehicles: Defined as military vehicles, but have a U.S. Department of Defense (DOD) Defense Logistics Agency (DLA) Certificate to Register a Tactical Vehicle (DLA 1928) form. Can be registered for on-highway use, but only when an exempt agency is using it for defense exercises. U.S. government remains lien holder on these vehicles. Like military vehicles above, it will only have a serial number and not any of the other labels. 
Civilian Humvees are street legal, and military Humvees can be made legal; it's just a long process and you need to talk to your local DMV about it. You might need to make some modifications to it to actually be able to take it on roads.
There might be different regulations surrounding your military vehicle depending on if you are allowed to drive it on public or private roads, or both. Call your DMV for any extra clarification before you take your military vehicle out for a ride!