When it comes to footwear, it's important to get shoes that are comfortable and durable. Military boots need to be adaptable to a variety of environments, temperatures, and terrain. These shoes will stand the test of time, but can they provide the comfort and support you need?
Generally speaking, military boots have been rated with an average level of arch support. Multiple companies and brands manufacture military boots, however, meaning that some of them provide better arch support than others. Those with high arches might want to use inserts in military boots.
Different feet types will require different levels of arch support. Arch support is important for those with low, medium, and high arches, although they will each have individual needs for the best shoe fit.
Importance Of Arch Support And The Different Types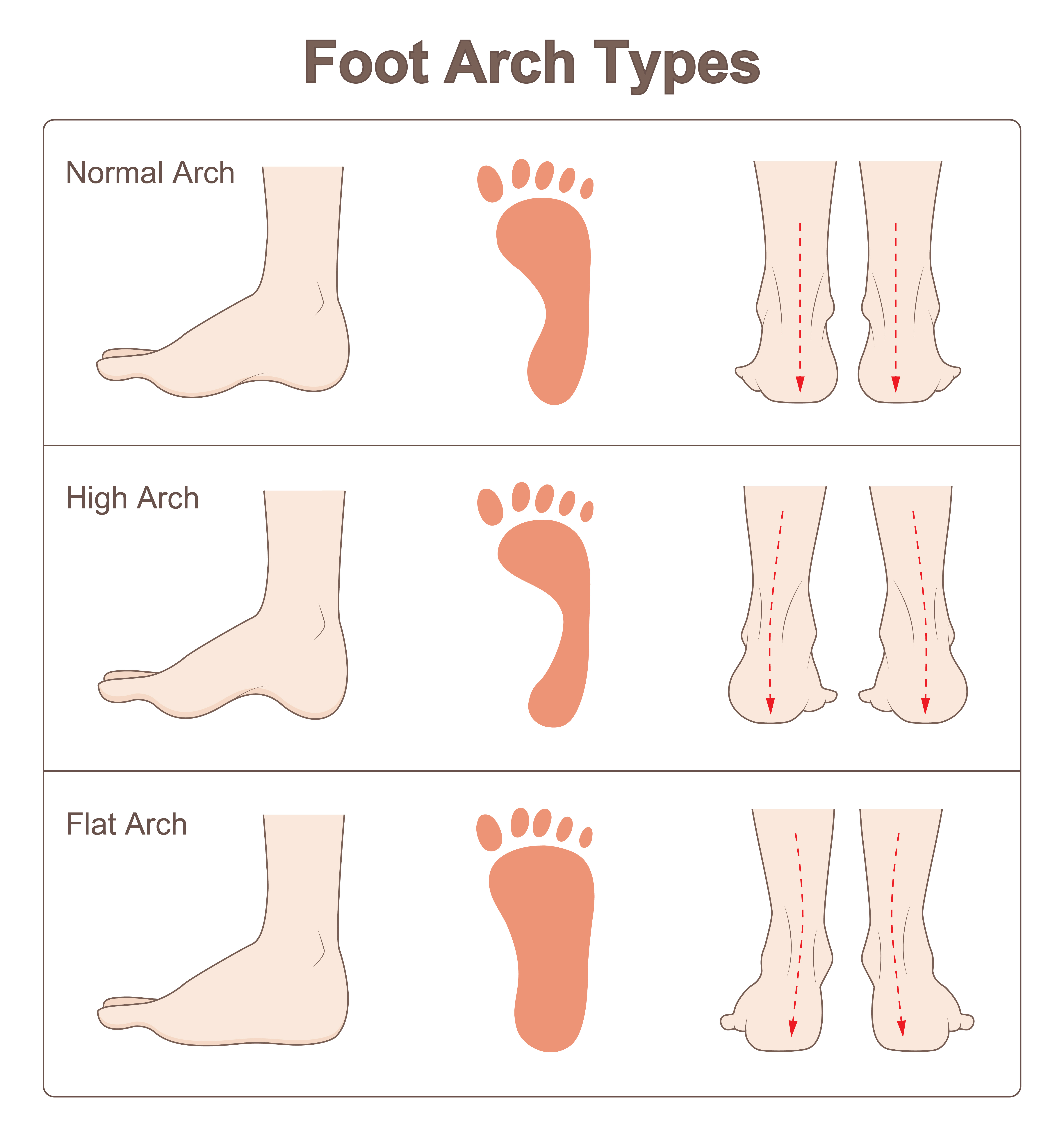 To some degree, almost all shoes provide some arch support. Shoes that are designed for long periods of walking, running or hiking will require more support than average recreational footwear.
Because of this, most military boots will offer a medium amount of support. These shoes are designed to be worn by a large range of people, so most brands aren't too specialized one way or another.
There are 3 main types of arches that people can have, and each one will require a different kind of support.
Low Arch:
Low arches (also known as flat feet) are feet that have little to no arch definition. The entire base of the foot sits parallel to the ground. Generally, this type of foot is pretty flexible.
In terms of arch support, low arch feet only need a small amount of arch support to keep the foot aligned and prevent rolling.
Medium Arch:
Medium arches are the most common type. These feet have a visible arch between the heel and toes of the foot, although it is usually quite close to the ground. If medium arches don't get enough support, they could experience pain in the heels or balls of the feet.
To counteract these potential problems, arch support is necessary for medium arches. An average amount of support should work well for this type of foot, meaning that most military boots will suffice.
High Arch:
High arch feet are inflexible with a pronounced arch that sits above the ground. There is a clear gap between the heel and the balls of the feet. This structure puts a lot of weight and strain on the foot, which makes support vital.
High arches require special arch support that most military boots will not be able to provide. Special orders or shoe inserts may be necessary if this is the case.
Adding Extra Arch Support
You may need a bit of extra support, regardless of what type of arch you have. If your feet feel sore and achy, your shoes aren't fitting properly, or if you just want a bit of extra padding, you could look into inserts as an option.
Inserts are small liners that can be attached to the inside of a shoe or boot. They generally have a firm structural layer with padding around it that will mold to the shape of your foot.
Inserts provide many benefits aside from arch support. They can improve your balance and stability, as well as prevent pain in various areas of your foot. Inserts help keep you comfortable without warping the shape of your feet.
Foot arches are natural and some shoes just aren't built to accommodate high or low arches. If you try to use shoes that aren't right for you, you could create pain and discomfort for yourself. Shoes should work for you, not the other way around!
Shoe inserts usually cost between $15-50 and are readily available in many stores and online. They're easy to get ahold of and they can make your day-to-day walks so much easier. An orthopedic doctor can also recommend some specialized ones if you need them.
Best Military Boots With Arch Support
Although many military boots aren't specifically designed to do so, most of them will do an average job of providing arch support. There are a few models and brands that have better support than others though!
If you're looking for a good base shoe that will support your arches, there are a few models that might do the trick. Both boots on this list are made by the Danner brand.
FullBore 4.5″ Danner Dry Military Boot
Shaft Height: 4.5 inches
Insole: OrthoLite®
Outsole: Vibram®
This boot is designed to withstand the wettest conditions. It's lightweight, with a mixture of meshes and other pliable outer materials. This one offers above-average arch support and is designed to make walking and hiking easier on your feet.
The design of this shoe is between a boot and a running shoe. It offers lace-up ties and has a universal style that can be worn in any setting.
The base of this shoe has a strong tread that offers great traction and grip. It's well designed for walking or running. The black color and sleek design make this a great option. The FullBore offers great arch support for a military boot and it's quite affordable as well.
For more information on this boot, including reviews, product specifications, and pricing, visit this link.
8″ GORE-TEX Marine Expeditionary Boot
Shaft Height: 8 inches
Outsole: Vibram® 360 with Dri-Ice
Upper: Nubuck/Nylon
This boot was developed with help from the US Marine Corps and has earned its place among the ranks of the military. This boot is extremely durable and can withstand a wide variety of weather and ground conditions.
The outside of this boot is crafted from Nubuck leather and the inside has a moisture-wicking mesh that is perfect for preventing overheating and moisture buildup. It has a clean, simple design with a lace-up design and strong treads along the bottom.
When it comes to arch support, this boot is one of the best in the business! It's been highly rated for the comfortable fit and great support. And with its durable design, this boot will hold up over time, providing comfort and service for years to come.
For more information on this boot, including reviews, product specifications, and pricing, visit this link.